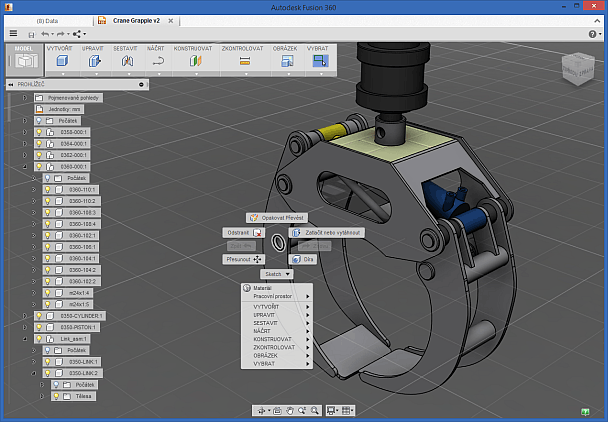 Autodesk introduced a new version of its CAD modeling application that combines industrial and mechanical design with collaboration in one easy-to-use and affordable package - Fusion 360 (version 2.0.1042). This software tool is based on cloud technology.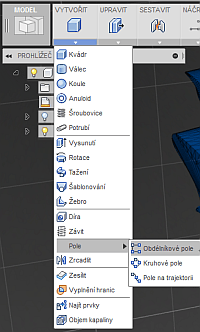 The design environment of Fusion 360 now offers design history (timeline), allowing intelligent relationships between operations (example: shell operation updates when a sculpted body is modified). You can now work with custom parameters - model shape will update after you change a numerical parameter. Sketch texts can be processed in more detail, you can create fillets with variable radius. The new version has improved import of SVG, STL and OBJ files.
In addition to the design features of the main application there are also other major changes. Fusion 360 is now localized into other languages, including Czech. The user environment has undergone substantial changes - you can now much easier manage projects and design documents through the Dashboard (hub). Its panel now provides quick access to documents and information on the latest changes made by you and by other members of your design team.
The top bar in the Dashboard provides 4 main functions - Projects (management of your projects), Data (the design data), People (invited members of your design team and external collaborators) and Calendar (timeline and planning). From the main page you can also search your data, monitor alerts from the system and from your colleagues, upload new files to the cloud storage for editing and format conversions. Dashboard is available on any computer or tablet in a web browser or RSS reader - so you can track changes in your projects anytime and anywhere (myHub).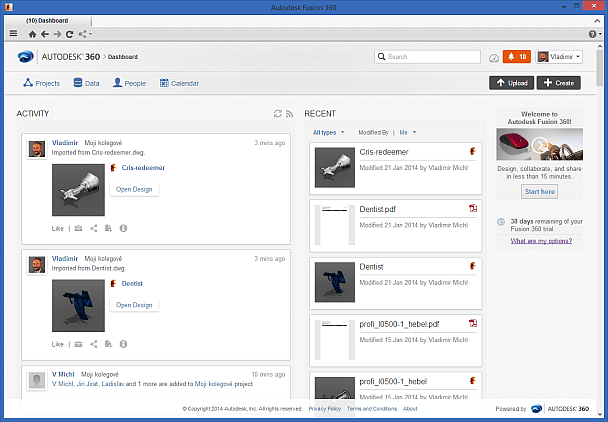 The same simplified on your tablet or smartphone: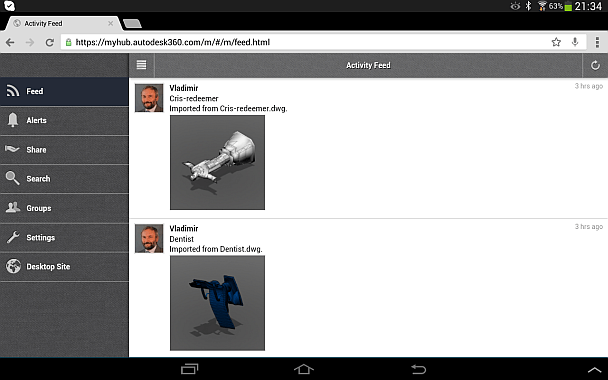 In the project environment you can see the current versions of your project files and the summary of recent activities in the project. You can also communicate with other team members.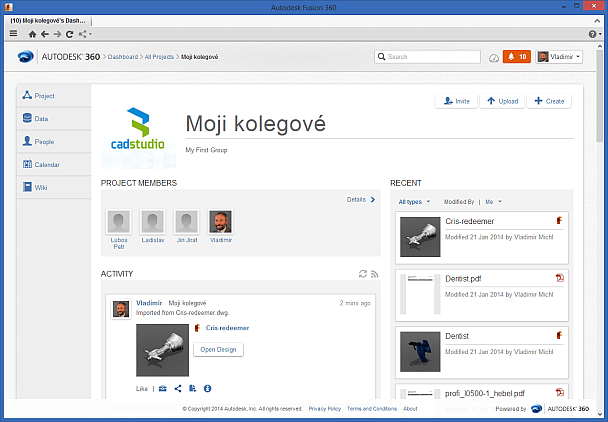 In the design tab of a particular document (CAD data) you can see the latest communication, changes and previews - presented either as cloud-rendered model views or as an interactive 3D viewer where you can freely rotate and zoom your model.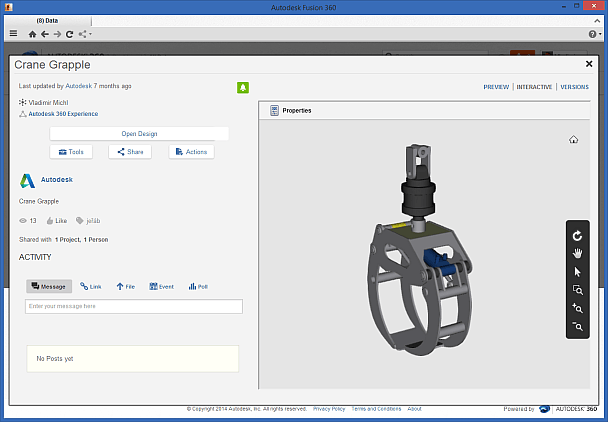 When uploading data in any CAD format to the Fusion 360 storage, the cloud automatically converts it to the internal format F3D. Similarly you can convert CAD formats for export.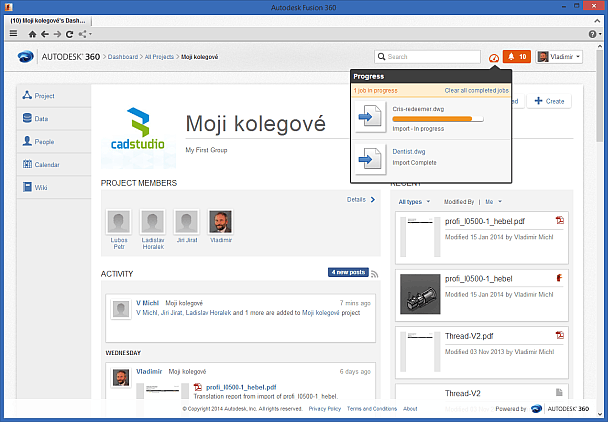 Fusion 360 is available for free for students and enthusiasts, a commercial license is available as quarterly and annual rental.
You can download a trial version of Autodesk Fusion 360 from autodesk.com/tryfusion360 or from our Download page. The application runs on a Mac, PC, or mobile devices. See also Fusion 360.
(high-res pictures can be found on our Facebook and Google+ pages)