CITin for AutoCAD
CIT raster file support for AutoCAD, LT, Map/Civil3D and MapGuide

Cesky
---

CITin (V2019 - 8/2018) by CAD Studio is an add-on for AutoCAD 2019/2020, 2016/2017/2018, 2013/2014/2015, 2010/2011/2012, 2007/2008/2009, AutoCAD 2004/2005/2006, AutoCAD 2000/2000i/2002 and R14 (or Map or Civil 3D or AutoCAD Mechanical/Architecture or CAD Overlay/Raster Design or AutoCAD LT or even DWG TrueView) plus a separate version for Autodesk MapGuide and Envision. It allows to work with CIT files as easy as with other raster formats directly supported by AutoCAD. Any standard "IMAGE" and "IMAGEATTACH" commands can be used with such files.
CITin add-on filter is distributed also with a standalone batch converter from CIT to TIFF format (incl. georeferencing).
CIT is a widely used format in the MicroStation community. CIT is a special case of Intergraph Raster File Format (INGR) - a 1-bit version with CCITT G4 compression).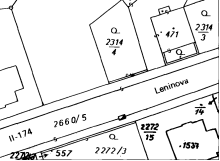 System requirements
---
CITin requires AutoCAD 2000, 2000i, 2002, 2004, 2005, 2006, 2007, 2008, 2009, 2010, 2011, 2012, 2013, 2014, 2015, 2016, 2017, 2018, 2019, 2020 or R14 (or MAP or Mech/Arch/Land Desktop) running on Windows 7/8/8.1/10, Vista, NT4/2000/XP or Windows 9x. Since version 2010, 32-bit and 64-bit versions of AutoCAD are supported. CITin for MapGuide (a separate product) supports Autodesk MapGuide R5, R6 and OnSite R6 plus Envision 8.
Usage
---
CITin just adds .CIT files to the options for reading (attaching) raster files (AutoCAD 2010/2011/2012/2013/2014/2015/2016/2017/2018/2019/2020 does not list individual formats). Georeferenced CIT files are supported in AutoCAD Map 3D, Land Desktop, Civil 3D and CAD Overlay, Raster Design (and Autodesk MapGuide).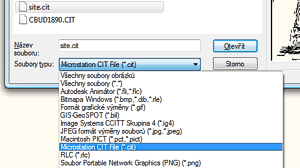 Included in the commercial version of CITin are two standalone Windows aplications for batch conversion of .CIT files to the TIFF format. The CITtoTIFF.exe version is an interactive version with GUI, the CITincmd.exe version is for command scripts/batches.
Known limitations
---
CITin cannot process georeferencing data when CIT files are read from a R/O directory; slow processing of CIT files stored on network drives
Version history
---
V2020 (9.4.2019)


Support for AutoCAD 2020 and 2020-family products
V2019 (13.8.2018)


Support for AutoCAD 2019 and 2019-family products
V2018 (13.6.2017)


Support for AutoCAD 2018 and 2018-family products
V2017 (24.6.2016)


Support for AutoCAD 2017 and 2017-family products
V2016 (28.4.2015)


Support for AutoCAD 2016 and 2016-family products
V2015 (1.4.2014)


Support for AutoCAD 2015 and 2015-family products
V2014 (9.4.2013)


Support for AutoCAD 2014 and 2014-family products
V2013 (8.6.2012)


Support for AutoCAD 2013 and 2013-family products
V2012 (5.5.2011; 8.6.2012)


Support for AutoCAD 2012 and 2012-family products; fixed licensing mechanism
V2011 (27.5.2010)


Support for AutoCAD 2011 and 2011-family products
V2010 (16.8.2009)


Support for AutoCAD 2010 and 2010-family products, 32/64-bit versions, new licensing mechanism
V2009 (19.5.2008)


Support for AutoCAD 2009 and 2009-family products, incl. DWG TrueView
V2008 (15.10.2007)


Support for AutoCAD 2008 and 2008-family products
V3.0.1 (8.-12.6.2006)


Support for georeferences without an external file
V3.0 (30.5.2006)


Support for AutoCAD 2007 and 2007-family products
V2.04 (13.2.2006)


Support for non-standard .CIT files, support for AutoCAD 2006 (not Map 2006)
V2.03 (4.8.2004)


Installer updated, support for the AutoCAD 2005 family
V2.02 (16.6.2004)


Installer updated, supports versioning/updates
V2.01 (30.4.2004)


TFW extension changed to WLD
V2.0 (13.2.2004)


Support for AutoCAD 2004 family and Envision 8
V1.5 (12.3.2002)


Fixed bug in georeference with rotation
V1.4,V1.3 (6/2001)


Standalone convertor from CIT to TIFF
V1.2 (9.3.2000)


Supports also special versions of CIT files
V1.1 (11.2.2000)


Georeferencing CIT also in direct import to Map+Overlay
V1.0 (12.1.2000)


first release
---
CITIN mail-list
Stay informed about the latest version of CITin - subscribe to CAD Studio software news mail-list.
CITin Shareware edition
---
Shareware version is downloadable for free and can be copied for free - together with this README file. Shareware version is limited (half of the file is processed) and can be used only for evaluation purposes.
Price of the commercial version of CITin is 150,-EUR:
2020, 2019, 2018, 2017, 2016, 2015:


Price of the special version of "CITin for MapGuide" (+OnSite Desktop/Envision) is 390,-EUR.
Download limited free version of CITin
(for AutoCAD R14 and 2000/2000i/2002, for 2004/2005/2006, 2007/2008/2009, 2010/2011/2012, 2013/2014/2015, 2016/2017/2018 and 2019/2020)