Autodesk solutions by CAD Studio
CAD/GIS products and solutions we offer
---

CAD Studio s.r.o. - as a leading Autodesk Platinum Partner in the Czech and Slovak Republics - offers full range of Autodesk software (CAD, GIS, multimedia) and complete solutions based on Autodesk technology. Our company is also an Autodesk Authorized Training Center (ATC), Autodesk Consulting Partner and ADN member. We provide CAD software solutions for both local and multinational companies with offices in Czechia and Slovakia.
In our portfolio you can find both local (Czech) and English versions of the major Autodesk applications, including training, consulting, customization and other services. Our own add-on applications are used by well-known companies from all over the world.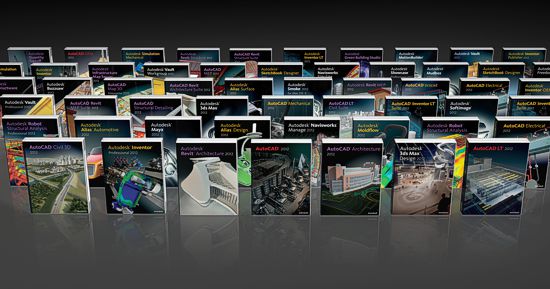 Some of the Autodesk software we carry:
AutoCAD
AutoCAD is world leader among CAD programs, its DWG and DXF file formats are defacto standards in CAD data exchange. Currently there are >4.000.000 AutoCAD copies sold all over the world.
New AutoCAD 2019 ("One AutoCAD") was released in March 2018 - more about AutoCAD
AutoCAD is available in many localized versions - the Czech version of AutoCAD Rel.13, 14, 2000, 2000i, 2002, 2004 and 2005 was directly localized by our company.
AutoCAD support (CZ)
AutoCAD files for download (incl. our famous VRMLout, LiveLabel, Excellink and other utilities)
Inventor
Autodesk Inventor is the world's best selling high-performance 3D MCAD modeler.
Inventor is compatible with 2D and 3D data from AutoCAD and Mechanical Desktop, plus all widely used 3D CAD formats.
Our recommended solution is the complete set for digital prototyping - "Autodesk Product Design Suite" and "Factory Design Suite" - both including an Inventor license.
More about Autodesk Inventor (CZ)
Revit
Autodesk Revit is the world's top rated CAD/BIM solution for AEC.
Revit can handle both small and very large architectural projects, with automatic coordination of project documents (not only drawings).
The "Building Design Suite" is a complete set of AEC applications including Revit.
Czech version of Revit has been developed by CAD Studio.
More about Autodesk Revit (CZ)
MapGuide
Autodesk MapGuide is a scalable, open and powerful internet GIS server system
Allows to publish vector (drawings/maps), raster and database data on thin clients
MapGuide is a core for our GIS and FM applications
More about Autodesk MapGuide (CZ)
AutoCAD Map 3D (Topobase GIS)
AutoCAD Map 3D, Autodesk Topobase (Map Infrastructure Server) is a complex open geospatial solution based on Map, MapGuide and Oracle
Topobase allows to create, manage and publish any geospatial data in large applications
More about Autodesk Topobase (CZ)
3ds Max
Autodesk 3ds Max is the world leader among animation and visualization programs. More than 50% of all animation sites are equipped with 3D Studio and 3ds max.
More about 3D Studio versions 3ds Max and VIZ for Windows.
With every 3ds max licence you get an unlimited network rendering license
You can find more information on our Autodesk web page in Czech.