LogOff - session inactivity shutdown
Terminates idle AutoCAD NLS license
---



LogOff (V1.7/2006 upd 4/2005) is an ARX application for AutoCAD 2004/2005/2006 or 2000/2000i/2002 or Rel.14 (or MAP or Land or Mechanical or Architectural Desktop) by CAD Studio (former Xanadu). It performs an automatic logoff from an AutoCAD session on user inactivity timeout. Helps to clear any unused/idle AutoCAD LAN license (NLS) when user forgets to end (exit) his/her AutoCAD session... No more hanging consumed licenses on AutoCAD LAN License Server!
---
System requirements
---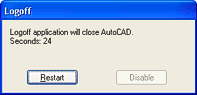 LogOff requires AutoCAD 2004/2005/2006 or 2000/2000i/2002 or Rel.14 (or MAP or Mech/Arch/Land Desktop) running on Windows NT4/2000/XP or Windows 95/98.
LogOff supports both the Elan and FLEXlm network Autodesk license servers.
Usage
---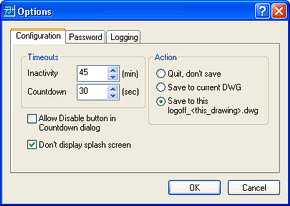 By setting LogOff options you can set inactivity timeout and default behavior on timeout - Quit, Save to current, Save to specified (not applicable in A2000-MDE) or Save to "logoff_dwgname" drawing file. At the launch of a new session user is warned that his/her last session was timeouted (and quitted or saved to file XXX). Inactivity means no command issued, no mouse click for a given period and no command currently active. Logoff starts a countdown (dialog+beeps) after this inactivity period and if the countdown is not confirmed (period restarted), the current session is gracefully ended.
Backup files are saved to the original drawing's folder.
Known issues
---
All MDE documents have to timeout for AutoCAD session to be closed
Version history
---
1.7 (18.4.2005)

support for AutoCAD 2006, 2005 and 2004
AAC Solutions installation folder

1.6 (22.11.2004)

support for AutoCAD 2005 and 2004

1.4 (3.5.2002)

autosave drawing now saved in the original drawing's folder
fixed crash when multiple drawings closed in AutoCAD Mechanical session

1.3 (7.9.2001)

new configurable options
activity logging
silent mode (no splash)
Disable button can be disabled

1.2 (16.5.2001, upd. 23.5.2001)

AutoCAD 2002 support
password protection for the options command
configuration saved in CFG file
configurable countdown
audible alarm while in countdown
higher timeout limit (120 min.)

1.1 (20.2.2000, upd. 6.3.2001)

AutoCAD 2000/2000i support
pre-warning - countdown

1.0 (1.6.1999)
---
LOGOFF mail-list
Stay informed about the latest version of LogOff - subscribe to CAD Studio software news mail-list.
---
LogOff Shareware edition
---
This shareware version is free and can be copied for free - together with this README file. Shareware version can be used only for evaluation.
Price of the commercial version of LogOff is 200,-EUR (full site license for unlimited number of AutoCAD seats)

. Czech customers - zákazníci z ČR mohou využít tento odkaz -