Autodesk Authorized Training Center (ATC) - courses to AutoCAD, Inventor, Revit ...
---

We can help you increase your productivity in using CAD, GIS, PDM and multimedia applications by Autodesk. CAD Studio provides specialized training courses as an Autodesk Authorized Training Center. Our lectors have deep experience in using and teaching Autodesk software, its upgrades and add-on tools. All successful trainees receive an internationally valid Autodesk certificate.
CAD Studio offers multiple types of CAD courses - for beginners, upgrade courses (new features in an updated version of a product), advanced CAD courses, etc.

Our offering of CAD trainings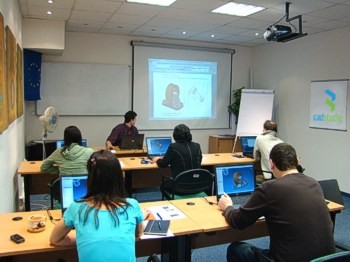 CAD and GIS courses - AutoCAD and AutoCAD LT, AutoCAD Map, Autodesk 3ds Max, Autodesk Inventor, AutoCAD Mechanical, AutoCAD Architecture, Civil 3D, Revit, Plant 3D, Map 3D, MapGuide, Topobase, Simulation, Vault ...
training centers in C.Budejovice, Prague, Brno, Ostrava, Pardubice, Plzen or on-site trainings
we carry an accreditation of the Czech Ministry of education (MSMT) to provide re-qualification CAD courses
---
The nearest planned courses:
See also all training, seminars and workshops by CAD Studio
For other terms and orders please contact: info@cadstudio.cz (tel. 841 111 124)
We can schedule any course in an individual term, also on your site.
---
Productivity and return of investment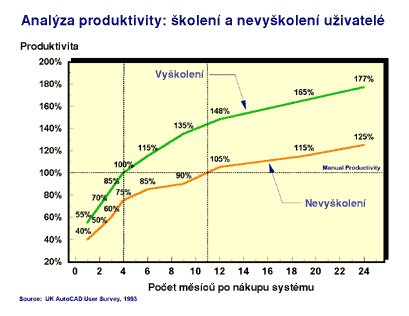 With training and upgrade to the latest version of AutoCAD you can substantially increase your productivity and so increase the ROI of your CAD system. We have prepared an automatic ROI calculator where you can prove this claim.
The productivity chart when implementing a CAD systemu looks like this:
You can see a steep increase of productivity on trained operators. According to Autodesk's surveys, the average training time is 1-3 months, the average temporary drop in productivity during training is 30% and the resulting increase in productivity is 100%. When upgrading to AutoCAD 2000x you can expect (according to independent surveys) a 44% increase in productivity; when upgrading from versions 2000x to 2006/7/8 you can expect cca 35% increase in productivity (see also AutoCAD).
Enter your best estimates to the following Return Of Investment Online Calculator:
---
Enter your data, the ROI value is updated automatically on change of any field (requires JavaScript).