SW News - XANADU software news bulletin
You are receiving this e-mail because you have subscribed to the "CAD Studio SW" maillist or you have bought a Xanadu CAD application which has been upgraded recently. To unsubscribe - see below.
You can also read this message online at www.cadstudio.cz/email/swnews.htm
Let us inform you about the new and updated CAD, GIS/FM and PLM applications by the XANADU Inc. company (now CAD Studio).
See our website www.cadstudio.cz (or the products and company pages) for more information. Dealers are welcome.
The Czech company XANADU Inc. (est. 1991) is a leading Autodesk Value Added Reseller and Autodesk Developer Network member with 80 employees and yearly revenues of about 16 mil. USD.
Most of our CAD add-on applications are ported to the current versions of AutoCAD 2008 family and Autodesk Inventor 2008.
CADForum.cz web portal
XANADU operates the www.CADforum.cz web site - a popular CAD portal for users of Autodesk software. This web site is available in Czech, English and German. CAD Forum offers lots of free web services but the main feature is the large database of thousands of CAD tips and tricks for AutoCAD, Inventor, Revit, Civil 3D and other CAD applications by Autodesk. This CAD tips database has already answered more than 10 million queries posted by its visitors. CAD Forum now offers over 5.000 searchable tips and tricks (1.450 tips in English) - and new tips are added almost daily. Two new services were currently added to the CAD Forum portal - an extensive library of CAD blocks and a discussion forum.


The CAD Blocks library section contains over 1.900 categorized 2D and 3D blocks and symbols in DWG (AutoCAD), RFA (Revit family) and IPT (Inventor part) formats. Blocks can be dragged directly from the web to the running CAD application with the help of the iDrop technology. Users can easily upload their own useful blocks and help to grow this library of publicly shared CAD blocks.
The new CAD Discussion section builds on the popularity of the Czech-version discussion forum with more than 40.000 posts. Questions not fully answered by the Tips and Tricks database can be discussed here.
(see Press Releases )
Excellink 2008
Excellink is an addon application for AutoCAD and AutoCAD LT. It allows export and bidirectional hot-linking of block attributes in AutoCAD drawings with Excel sheets. You can also drive block geometry from Excel.
New version of Excellink now supports also AutoCAD 2008 and 2007 (plus other products based on AutoCAD).
Upgrades from older versions of Excellink are available.
(see/try www.cadstudio.cz/excellink )
VRML Translator for Inventor 2008 and 11

The VRML (.wrl) export module for Inventor is now Autodesk-certified for Inventor 2008 and Inventor 11. With VRML Translator you can publish your Inventor parts and assemblies to the 3D VRML virtual reality format.
A separate version of VRMLout is available for AutoCAD and AutoCAD Architecture 2008 (and older).
(see/try www.cadstudio.cz/vrmlout )
CITin 2008
CITin adds the .CIT raster file support to AutoCAD standard IMAGE raster functions. The updated version supports also AutoCAD 2008, AutoCAD 2007, LT 2008/2007, Map 3D, Civil 3D and Architecture plus several new special CIT file sub-formats.
(see/try www.cadstudio.cz/citin )
AutoNEST 2008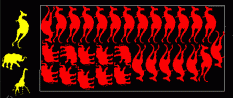 AutoNEST is a general purpose nesting application for AutoCAD 2008/2007/2006/2005 (as an ARX add-on module). AutoNEST addresses the problem of nesting irregular shapes that maximizes the use of raw material (cutting layouts). Can be used for sheetmetal, wooden, paper, plastic or leather parts (or just eg. for schematics - factories, stores, ...). New version supports AutoCAD 2008 and 2007 and includes a new installation program.
(see/try www.cadstudio.cz/autonest )
iPROJECT 3.5
iPROJECT is an easy document management system by Xanadu. In the next weeks we are planning to release a new version 3.5 with several new functions and an updated client component. There is new functionality for document workflows, ECO and approvals, Windows login integration (single sign-on), new user administration tool, linking documents through relations, document attributes with list-defined values.
A hosted ASP version of iPROJECT (on a separate web address) is now available for a monthly fee.
You can tryout the free version of iPROJECT available online at www.iproject.cz (see Help>History for changelog). More than 3.500 users worldwide.
(see www.cadstudio.cz/en/iproject.asp )
LiveLabel 2007
LiveLabel is an ARX AutoCAD add-on allowing to add dynamic behavior to your drawings. If you change an entity, other entities can react and change their text or geometry. New version adds support for the AutoCAD 2007 family.
(see/try www.cadstudio.cz/livelabel )
DirectX Export 2007
DirectX Export for AutoCAD is an ARX application for AutoCAD, Architectural Desktop and other AutoCAD-based products. It allows to publish (export) any 3D solid from AutoCAD to the .X format (DirectX meshes) for multimedia applications.
(see/try www.cadstudio.cz/en/apps/directxexport )
Xanadu LT Extension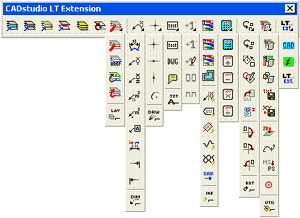 LT Extension is a popular and affordable productivity add-on for AutoCAD LT.
New version adds support for AutoCAD LT 2008 and 2007, automatic area report function, coordinates export, rotate paperspace viewport, explode layer, bring layer to front, new Layer flyout, X/Y/Z labels, insertion of multiple images, dynamic labels for coordinates, contour height, username/computername, parametric breakline and insulation symbols, access to online block library, objects grouping, edit autoincremented texts, online version checks.
(see www.cadstudio.cz/ltextension )
Budweiser DWG benchmark
Many CAD applications and vendors claim "full" or "100%" compatibility with the Autodesk (AutoCAD) DWG file format. We at XANADU have created a benchmark drawing (using plain AutoCAD application with no add-ons or special objects) to verify these claims. So far no non-Autodesk application has succeeded to read and interpret the BUDWEISER.DWG benchmark drawing in all its tests (and passing only N% of the tests is barely something you will depend on when processing your valuable data...).
BUDWEISER.DWG is now available also in the AutoCAD 2008 DWG format.
(see www.cadstudio.cz/budweiser )
Free CAD Tools
We offer many of our utilities as free CAD tools for download. Recently released utilities:
Xanadu SLDview is a free Windows application - AutoCAD Slide Viewer (viewer for .SLD files)
AutoDWF is a free tool which automatically publishes a DWF copy of your drawing on every Save operation. You can set many options for DWF publishing.
AutoLay reactor automatically places dimensions, hatches and texts into specified AutoCAD layers (you don't need to switch layers).
DBXremSL is a batch tool which helps with identification and fixes of DWG files containing excessive annotation scales (e.g. from Xrefs).
LinCatalog is a LISP utility which draws a handy catalog of complex linetypes defined in a .LIN file.
srxTEXT is a powerful search and replace tool for AutoCAD drawing texts using regular expressions, supports batch scripts, table replacements, etc.
LinOut tool exports linetype definitions (incl. shape+text information) from AutoCAD DWG drawing back to external .LIN file
ContourAutoLabels is a dynamic label block for contours - it will automatically align, get countour height, round and center it and display the label with masked background.
fArea creates a dynamic area label (acreage of the selected object)
fVolume creates a dynamic volume label (volume of the selected object)
VerticesBlk inserts blocks at each polyline vertex
DB2SB converts an AutoCAD dynamic block to a static block
DelProxy erases proxy objects from AutoCAD DWG drawing
BlkRedef redefines a drawing block with an updated version from a DWG file (can be batch scripted)
ArcNorm - normalize "reverse" arcs with normal vector [0,0,-1]
SelLay tool selects all entities in the same layer as the picked entity
WPS tool selects objects inside a picked polyline
Text2Elev moves text entities to the elevation (Z) corresponding to their text string.
Measure2 performs the MEASURE command from both ends to the middle of a curve
ExplodeIP - explode and inherit properties (e.g. for exploding MPolygons)
AllVports sets UCSFOLLOW to 0 in all viewports of all layouts and modelspace
VPFL command - freeze VP layer by picking an object
TCE - Table Cell Edit - edit block directly from table cells
LGC - measures distances on curves
CamLine creates a 3D view vector between source and target points of a given AutoCAD camera
Speak - talking AutoCAD, speaks layer list, command reactor, say, etc. (source code on request)
Export Workpoints is an Inventor VBA macro which exports part workpoints coordinates to a TXT tab delimited file.
You can also find some other CAD files and utilities on our Download page (Autodesk TrueView free DWG viewer, Find/Replace utility for Revit, dynamic blocks, linetypes, LISP games, object enablers, service packs...)

These and other similar tools are available free from www.cadstudio.cz/download.
(see www.cadstudio.cz/en/develop.asp )
CAD Downloads
The latest CAD utilities, libraries, families, patches and updates are available for download on www.cadstudio.cz/download
CAD Tips and Tricks, Discussions, CAD Blocks Library

There is already more than 1.450 tips(!) in the english section of our CAD Tips & Tricks online database on www.cadforum.cz. This popular free service for CAD professionals has already answered over 11.000.000 questions since its launch in 1999.

See more than 1.400 CAD Tips and Tricks (AutoCAD, LT, Inventor, HP...), discuss CAD questions, download more than 1.900 2D and 3D CAD blocks and download over 700 CAD files (patches, utilities, libraries, add-ons) - at www.cadforum.cz.
Includes AutoCAD 2008 tips, Inventor 2008 tips and FAQ.
Read new tips like: "How to align viewports in a layout", "An undocumented AutoCAD command sets CPU affinity", "Is AutoCAD compatible with Windows Vista?", "How to color or suppress all Xref layers?", "GoPlot - batch plotting of PLT and PRN files", "Command aliases - a commandline in Inventor", "How to print a multi-page PDF from AutoCAD?".
See how easy you can put these tips on your website:

- with RSS syndication feed.
You are receiving this e-mail because you have
subscribed to the "CAD Studio SW" maillist;
visit any application homepage or click here to unsubscribe
This issue was sent to

---
XANADU a.s. (now CAD Studio) - info@cadstudio.cz
Autodesk Value Added Reseller, HP Preferred Gold Partner 2008, Microsoft Certified Partner
Tylova 17, 370 01 Ceske Budejovice, Czech Republic
www.cadstudio.cz www.cadforum.cz www.iproject.cz