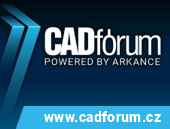 CAD Studio announces a milestone of its exceptional web service, used by a community of computer-aided design users from all the world
Prague, 14th September – The portal CADforum.cz is a valuable treasury of tips, tricks and practical advice in the area of computer-aided design. During more than 11 years of its existence it has provided services for already 250 thousand registered users. CADforum.cz is operated by CAD Studio – a supplier of CAD, CAM, PLM and GIS solutions and the largest Autodesk partner in Central Europe.
CADforum.cz is permanently in the viewfinder of professionals, students and enthusiastic amateurs for one simple reason – here they can find tips and advice on improving their workflow, interesting blocks and models they can use in their 2D and 3D projects, and many useful software applications for download. The majority of the service is available for free. Some content is created directly by the user community.
The current scope of the project can be best described by numbers:
More than 14 million downloads of CAD blocks, 3D models, applications and other files (up to 300 GB downloaded monthly)
More than 250 thousands of registered users (with top countries: USA, UK, India, Canada, Australia, Brazil, Italy)
More than 95.000 discussions in English and Czech
More than 7.700 tips for the major Autodesk CAD and GIS applications
More than 200 video tutorials and demonstrations of CAD software
More than 3.500 3D models converted with the web-service STL2DWG
"If somebody at the turn of millennium said that by 2011 our site has 250.000 registered users from all the world, he might earn a distrustful smile. Thanks to thousands of hours, not only ours, but also thanks to an effort of many enthusiastic users, the original idea has developed to such successful web service" says Vladimir Michl from CAD Studio, who founded CADforum.cz more than 11 years ago.
About CAD Studio
CAD Studio is the leading supplier of CAD, CAM, PLM and GIS solutions in Central Europe. The company's portfolio covers all CAD solutions for engineering and manufacturing, construction and architecture, surveying and mapping, visualization and animation as well as geographic information systems for facility management.
CAD Studio is a member of the AutoCont holding and the top Autodesk partner in the Czech and Slovak Republics.
More information: www.cadstudio.cz, www.cadforum.cz