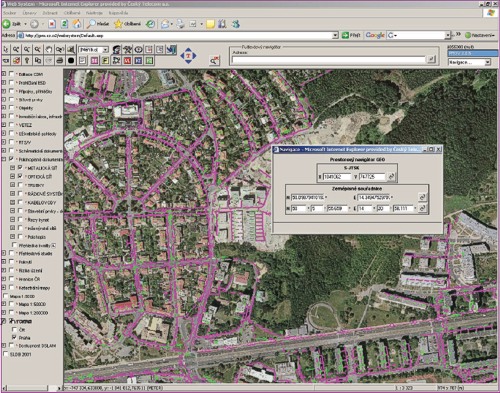 "With MapGuide, we delivered on the basic requirements for making organizational process changes, centralizing data and reducing the workforce. While previously our documentation was stored in 70 different districts, now we have only thirteen sites, which makes our data much more accessible."
Michal Hamouz Standards & Systems Manager Telefónica O2 Czech Republic.
The Customer
Telefónica O2 in the Czech Republic is a leading integrated telecommunications operator in the Czech market. Currently operating more than seven million mobile and fixed lines, it is one of the leading providers of combined telecommunications services worldwide. The company has the broadest portfolio of voice and data service offerings in the Czech Republic, focusing its growth primarily in data and internet services. Telefónica O2 operates the largest fixed and mobile network including third generation networks – those supporting data, voice, image and video transfers. In addition, Telefónica O2 Czech Republic is a leading provider of information and communications services in the country.
The Challenges
Telefónica O2 manages an extensive network of copper and optical fiber cables. The company's Network Administration and Documentation Department keep the intricate network records. From the perspective of IT applications, records of both networks are supported by two solutions: a stand-alone data capture and cleanup system and a data presentation and access system. Various employees use the data in these systems, including engineers and sales team sales teams. In addition, the investment team uses the data to analyze customer connections to determine where to expand the network. The security team assesses flood or storm areas that might affect service outages. And, the marketing department uses the information to create telecommunications service coverage maps.
Telefónica O2 wanted to create a tool for various geo-analyses. To do this, the company needed to visualize its CAD data in a simple, intuitive environment to support a range of enterprise processes and functions. One of the company's main goals was to establish environment for start documentation creation, which serves as the basis for investment operations such as adding new cables, new customer connections and more.
Initial documentation is a specification that must be created before each investment operation. It addresses technical specifications as well as the cost estimate. This documentation is shared with contractors, who design the new cables, or build up; build it; and then commit it to Telefónica O2.
This system is pivotal as it helps to create a rough scheme of the future network. It is based on information about the existing infrastructure and helps to produce an accurate investment estimate. Telefónica O2 designed the automated presentation environment to replace the need to tediously gather data from specialists in more than 70 documentation departments across the Czech Republic.
"We needed a web-based environment to provide automated access to the necessary data and streamline related processes. We wanted a solution that would enable simple and intuitive access to network data, without extensive training, to a wide spectrum of users without specific CAD or relational database knowledge," said Michal Hamouz, Standards & Systems Manager in Telefónica O2 Czech Republic.
In the past, Telefónica O2, previously CESKY TELECOM, built its in-house GIS solution as a conventional CAD system with file-based data storage. Over time, as the need to present data to corporate users increased, the company saw the need to implement a presentation system. Autodesk won the account with its Autodesk MapGuide solution. Its main benefits from a customer perspective include advanced technology, web-based editing capabilities as well as favorable total cost of ownership. The required features and integration with multiple enterprise systems make the project one of the largest of its kind in the Czech Republic. So large, in fact, that the implementation and support has been carried out by two companies: S&T CZ s.r.o. and XANADU a.s.
The implementation challenge was to change start documentation processes and convince users of the benefits of the new system. Full system functionality for start documentation was launched in 2008.
As part of the enterprise-wide IT infrastructure, Autodesk MapGuide is now linked through various interfaces with a broad range of systems supplying the required data. Most important is the interface to the original CAD system for network surveying data capture. The interface also includes links to the telecom network system, facility and workplace system, as well as business systems such as the customer relationship management solution. The system interfaces to essential enterprise workflows supporting the process of service requests and investment build-up.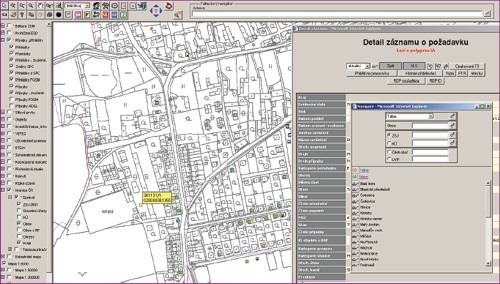 Key benefits
Using Autodesk MapGuide, Telefónica O2 has a single system that provides a wide spectrum of users with easy access to integrated technical documentation data. "With Autodesk MapGuide, we delivered on the basic requirements for making organizational process changes, centralizing data and reducing the workforce. While previously our documentation was stored in 70 different districts, now we have only thirteen sites, which makes our data much more accessible" added Michal Hamouz. "With the implementation, information and knowledge were transferred from the people's heads to the system so that now multiple workers are able to collaborate on any project without the risk of losing information."
MapGuide enables staff to make project information available over the web so that workers now have a dynamic online map of the telecommunications network at their disposal. At the same time, the company is seeing improved data quality; workers can compare data against the as-built state, allowing them to catch data errors and permanently change the data sources.
The availability of more accurate data also delivers major time savings in investment operation preparations and troubleshooting. Also, it improves the productivity of workers who are now able to focus on more critical tasks.
The system provides details to execute proactive sales campaigns targeted at areas with the highest business potential or areas with under-utilized infrastructure. From the perspective of a customer who is requesting a new phone or ADSL line, more efficient documentation accelerates service. The system also increases awareness among potential customers about investment operations already underway.
Telefónica O2 is currently using Autodesk MapGuide. The company now deploys a new system based on Autodesk Topobase. It will enable Telefónica O2 to further streamline business processes.