CAD STUDIO IS CHANGING OWNERS AND BECOMING PART OF ARKANCE – A SUBSIDIARY OF THE GROUPE MONNOYEUR
Prague & Saint-Denis, June 02, 2020 – CAD Studio, a leader in CAD/CAM solutions for engineering and construction and AUTODESK's largest Central European partner, becomes a member of the prestigious European group ARKANCE. Its former owner, AUTOCONT, has decided to focus on its core business.

Speaking of the deal made today, Milan SAMEŠ, CEO of the ARICOMA Group, to which AUTOCONT belongs, said: "After ten years, we have decided to sell one of our most successful companies. In the areas where CAD Studio operates, it is crucial to further develop consolidation and significantly strengthen the market position at a European level. This is exactly what ARKANCE is offering, as it currently operates on the French, Belgian, Dutch, Finnish and Polish markets".
The ARICOMA Group, which covers all the IT activities of Karel Komárek's KKCG Group, wants to have a long-term focus on the main areas of corporate IT, such as digital transformation, the cloud, customer software development and cyber security.
"CAD Studio is a very attractive asset that has aroused investors' interest not just through its excellent results, but primarily due to its successful adaptation to a model of licensing with a high proportion of services," added Milan SAMEŠ.
CAD Studio, which employs around 120 professionals, is the largest Central European AUTODESK partner. It operates in the Czech Republic, Slovakia and Hungary. It supplies CAD/CAM/CAE, BIM, GIS/FM and PDM/PLM solutions for engineering, construction and architecture, mapping, civil engineering projects, 3D visualization, document management and asset management. There are number of synergies that mean these specific IT services have a better potential to develop in a larger group. "It was well worth the reflection on handing over CAD Studio to ARKANCE. Now we can carry out our knowledge, experience and the software tools we have developed and likewise get the same from the group's sister companies, which we can offer to our customers," added Jan BINTER, Director of CAD Studio.
"With the acquisition of CAD Studio, not only do we gain a leading position in the Czech, Slovak and Hungarian markets, but above all a highly experienced team with excellent know-how that will help us grow in the European market as a whole. From now on, it is up to us to develop synergies between our territories, so that CAD Studio´s customers can quickly benefit from our expanded team by taking advantage of the know-how of very specialized experts on certain topics. With CAD Studio's management team, who will continue to be your partner as usual, we are already working to strengthen our services and to invest in the development of the company", says Grégoire ARRANZ, ARKANCE's CEO.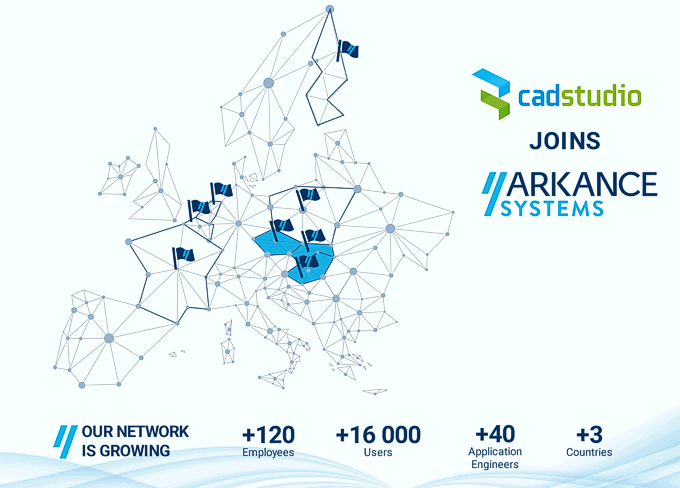 ####
About CAD Studio
CAD Studio s.r.o. is a supplier of CAD, CAM, BIM, PDM and GIS solutions in Central Europe with a 29-year tradition. The company's portfolio covers all professional solutions in the areas of engineering and production, construction and architecture, geodesy and mapping, visualization and animation as well as geographic information systems for asset and infrastructure management. CAD Studio also offers customers comprehensive services, including implementation, tailor-made development and professional technical support. CAD Studio is AUTODESK's most important partner in the Czech and Slovak Republics and a Platinum holder, AUTODESK's highest level of certification.
About ARICOMA GROUP
The holding covers AUTOCONT, Cleverlance, DataSpring, AEC, Cloud4com and Internet Projekt. The group employs two thousand people and its total revenues for 2019 exceeded CZK 7.3 billion.
About KKCG INVESTMENT GROUP
The KKCG Group currently manages major companies with a total book value of €6 billion. The KKCG Group and its companies employ around 6,000 employees and develop business activities in the European Union and the USA. Examples of the companies the KKCG Group holds shares in are: MND Group, SAZKA Group, ARICOMA Group, US Methanol and others.
About the GROUPE MONNOYEUR
The GROUPE MONNOYEUR, a family business founded in 1906, provides to its customers from the construction and industrial sectors efficient and productive machines and handling solutions – through the distribution networks BERGERAT MONNOYEUR, APROLIS and IPSO. In addition, the GROUPE MONNOYEUR supports its customer to answer their energy supply and digitalization challenges through its dedicated subsidiaries ENERIA and ARKANCE. With more than 6.200 employees, the Group operates in 15 countries and posted more than 2 Billion € of turnover in 2019.
About ARKANCE
The value proposal of ARKANCE is to support its customers in their digital transition through a European network of experts. With 450 employees working in 4 divisions - ARKANCE SYSTEMS, ARKANCE OPTIMUM, ALLTERRA and SITECH – the group partners with global leaders, in particular AUTODESK & TRIMBLE – to distribute and implement solutions dedicated to optimizing all phases of the life cycle of a Construction or Industrial project, from offices to jobsites.
About ARKANCE SYSTEMS
In ARKANCE organization, ARKANCE SYSTEMS is focusing on delivering a complete software and application expertise for all phases of the construction project lifecycle. After these acquisitions, the branch counts now 360 employees including more than 145 application engineers supporting 56,000 users through a European network established in France, BeNeLux, Poland, Finland and now the three new territories of CAD STUDIO and will continue to invest as part of its strategic development. Its experts are at the forefront of all topics concerning BIM, digital twins, industry 4.0 and other IoTs. ARKANCE SYSTEMS is an AUTODESK® PLATINUM reseller and TRIMBLE AUTHORIZED CHANNEL PARTNER on territories where the group operates.