HGEN - Hatch Pattern Generator
Generate automatically hatch patterns from your AutoCAD drawings
---


HGEN (V2006 upd 4/2005) is an ARX application for AutoCAD 2000/2000i/2002 or 2004/2005/2006 (or MAP or Mechanical/Architectural Desktop) by CAD Studio (former Xanadu). It converts your AutoCAD drawing to hatch pattern (.PAT definitions) so you can easily convert your logos, symbols or patterns to hatches which can be used in standard _HATCH or _BHATCH commands in AutoCAD (or Desktops) or in Autodesk Revit. Creating hatch patterns has never been easier.
---
System requirements
---
HGEN requires AutoCAD 2000/2000i/2002 or 2004/2005/2006 (or MAP or Mech/Arch/Land Desktop) running on Windows 2000/XP.
Usage
---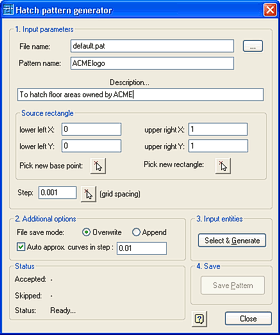 Take any of your existing drawings. Explode it to simple entities (if neccessary - e.g. uses blocks; you can explode any 2D entity to lines). HGEN can scale the source drawing and can approximate curved entities to lines (AutoCAD hatch pattern definitions do not support arcs by default). HGEN converts and writes selected entities of your drawing to a .PAT definition (you can even append to ACAD.PAT) which can be subsequently used in _HATCH or _BHATCH commands. All .PAT files generated by HGEN can be also used in Autodesk Revit as model or drafting patterns.
Please note that the resulting PAT patern file is written in the current directory by default - it may be necessary to move it to your AutoCAD support folder.

→

Known limitations
---
Currently only LINE, PLINE, LWPOLYLINE, SPLINE, ARC, ELLIPSE and CIRCLE entities are processed (everything can be converted to them)
Currently you have to specify the "unit" square cell (doesn't need to be 1x1, HGEN supports rescaling)
Only the first 65500 selected entities are processed
Version history
---
3.6/2006 (18.4.2005)

compatibility with AutoCAD 2006 families
new default setup folder - AAC Solutions

3.5/2005 (1.12.2004)

compatibility with AutoCAD 2004 and 2005 families
new default setup folder - Xanadu

3.0d (29.4.2002)

scaling support
curved and complex entities supported (automatic line approximations)
automatic MSI installer and new licensing scheme (15 days trial)
14.5.2002 postfix, compatibility with R2000

2.0d (26.2.2002)
2.0c (15.6.2000)

added basepoint option (other than 0,0)
small overlaps truncated automatically

1.05 (3.5.2000)

default precision changed to 0.001
pattern name check

1.03 (8.12.99)

pattern=filename check
entity close bug corrected

1.02 (20.7.99)

R14 version
0,0/1,1 limit corrected

1.0 (15.7.99)
HGEN Shareware edition
---
Shareware version is free and can be copied for free - together with the README file. Shareware version is limited by adding the "DEMO" text to any of your patterns and can be used only for evaluation for 15 days.
Please consider also CAD Studio Tools - a bundle product containing also HGEN.
Price of the commercial version of HGEN 3.0 is 55,-EUR -


HGEN 2005/2006 costs also 55,-EUR -


Upgrades from any HGEN to HGEN 2005 cost 40,-EUR -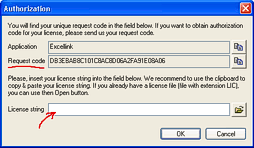 Czech customers - zákazníci z CR mohou využít tento odkaz -

(payment by credit card, PayPal, check or invoice)
Delivery: HGEN (or the authorization code) is deliered electronically - via e-mail. Please install the trial version first and specify your unique Request code in your order (available in HGEN startup dialog, Authorize button - see on the right). Orders are processed within one business day.

Download limited free version of HGEN (for AutoCAD 2000/2000i/2002 or 2004/2005/2006)