SplineConvert utility
Convert arcs, circles, ellipses and spline curves to 2D polylines
SplineConvert curve conversions

SplineConvert is a simple ARX utility for AutoCAD 2009, 2008, 2007, 2006, 2005, 2004 and 2002 which converts arcs, circles, ellipses and spline curves (plus derived AutoCAD objects) to 2D polylines with given tolerance.
Please note that AutoCAD alone cannot convert (explode) Spline entities to polylines and cannot replace curved lines (e.g. arcs) with segmented approximations.
Installation
Run the .MSI distribution archive. The application is installed to the \Program Files\Xanadu\SplineConvert folder by default. Choose one of the "autorun" methods.
Usage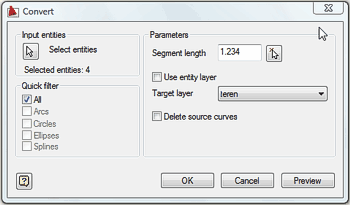 Run the conversion using SplineConvert toolbar button or by _sc_convert command on AutoCAD command line. Specify required parameters for conversion - source curve, segment length (tolerance), target layer. Optionally you can delete source entities and filter source entity types. A spline converted to 2D LWPOLYLINE with straight segments (using long segments) will look like this:

Version history
1.4 - 2009 (29.5.2008)

Added support for AutoCAD 2009/2008/2007
Windows Vista support
"Use entitiy layer" conversion option

1.3 - 2006 (29.11.2005, license fix 15.6.2006)

Added support for AutoCAD 2006/2005/2004
Company name and installation tree changed to AAC Solutions/Xanadu

1.2 (12.12.2002)

UCS problem fixed
Company name and installation tree changed to Xanadu

1.1 (21.7.2001)
---
Problems
Please send possible questions and problems to: info@cadstudio.cz.
Please send inquiries about custom application development to: develop@cadstudio.cz.
SplineConvert Demo + Buy/Order
Time limited (15 days) trial version is free for download. If you are interested in the full unlimited commercial version, use the Order below or contact CAD Studio.
Please consider also CAD Studio Tools - a bundle product containing also SplineConvert.
Price of the commercial version of SplineConvert is 40,-EUR

.

Download limited free version of SplineConvert (for AutoCAD 2002-2009, and vertical apps)