Time-tracking for Revit projects - true editing time, sans idle periods
---
Revit JobTime - RVT time-tracking

CADstudio Revit JobTime Tracker is an add-on utility for the BIM software Autodesk Revit 2012 (both 32/64-bit). JobTime tracks your time spent on editing a RVT project file in Revit Architecture, MEP or Structure. This addon tool automatically logs true (net) editing time spent in the current Revit project. Idle periods (longer than the defined timeout) are by default not counted to the tracked time. Time is tracked across Revit sessions - the total job time is available.
The time-tracking information is stored in a separate file in the same folder and with the same name as your project and with the extension .CSTIME. When you transfer your RVT file to another machine, make sure the .cstime file is copied along. JobTime tracks and displays these properties:
the total net time in the format dd:hh:mm:ss
net time in the individual Revit sessions (and timestamp of those sessions)
number of commands (operations) invoked in the individual sessions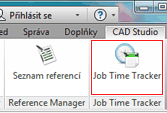 You can install Revit JobTime Tracker automatically using its setup program. It will be integrated into your Revit ribbon - see CAD Studio > Job Time Tracker and it will run automatically in each session.
The tracking-reactor is ON by default. You don't need to run the JobTime command from the ribbon. You can run it to display your current time-tracking information, to set a new "Idle time" value (the setting is stored in the project file), to disable it temporarily, or to export the time-tracking statistics to Excel (or other spreadsheet application supporting CSV data files). There you can perform other advanced functions on the tracked data - like adding data from multiple RVT files, or multiple users, graph-presentations, adding price/billing data, etc.
The file tracking is updated on document/project close (if the project was saved at least once in this session).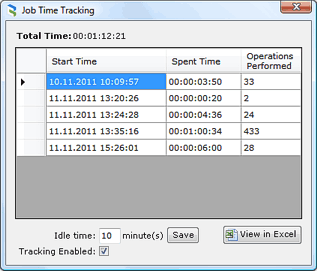 Supported platforms
Revit JobTime Tracker was tested on Revit Architecture 2012, 32-bit and 64-bit.
History
JobTime is now part of the Revit Tools add-on package
Version 1.3 (11/2011) - First public release
JobTime license (trial + buy/order)
Revit JobTime is a shareware utility by CAD Studio. The limited trial version is free for download. The trial version cannot set some of the parameters - timeout is set to 1 minute, only 3 sessions are tracked, you cannot use the Excel export.
Please buy Revit Tools to get the full version of JobTime Tracker and other Revit tools