Athens (Greece), Ceske Budejovice (Czechia), Sep 9th 2009
XANADU Inc., the leading CAD and GIS supplier in Czech Republic today announced an agreement with Plexscape to provide existing and new innovative software solutions to the engineering community in the Czech Republic and Slovakia.
Plex.Earth Tools is the software solution created by Plexscape to facilitate the communication between AutoCAD® and Google™ Earth in order to incorporate robust aerial imagery background mosaics and geospatial data during the planning, design, construction and operation of:
Transportation projects
Water resources management and development projects
Environmental projects: site remediation, landfills and waste management, water/waste water distribution, etc.
Urban design and landscape planning projects
"In XANADU, we traditionally provide proven CAD and GIS solutions and add-on applications which help our customers complete their tasks faster, easier and better. Plex.Earth Tools is a perfect example of such software application." says Vladimir Michl, business development manager at XANADU.

"We are looking forward to expanding our services to the worldwide market. Our partnership with XANADU enhances our goal to provide top quality solutions to the civil engineering community", said Lambros Kaliakatsos, founder and development manager of Plexscape. "This is particularly important to provide effective design tools when engineers need to be able to instantly evaluate the interaction of their approaches with the environment, when they present their ideas to their partners and when they deliver solutions to the client."

The Autodesk® products that are currently supported in Plex.Earth Tools are: AutoCAD®, AutoCAD® Civil 3D®, AutoCAD® Map 3D, AutoCAD® Architecture.

Product support and distribution of licenses for the Plex.Earth Tools for AutoCAD software products in Czech Republic and Slovakia will be provided solely by XANADU.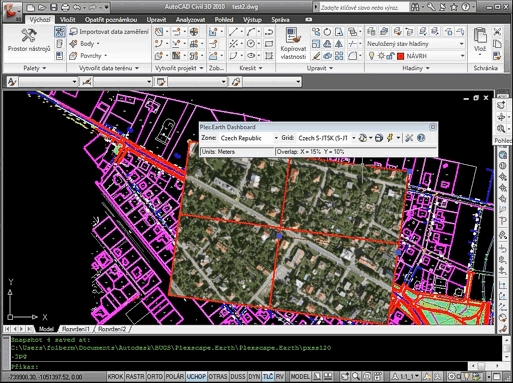 About XANADU
XANADU Inc. is leading supplier of solutions and services in the areas of CAD, GIS, IT infrastructure and software development in the Czech Republic. XANADU is an Autodesk Premier Solutions Provider (PSP), Microsoft Gold Partner and HP Preferred Gold Partner, active on the Czech and Slovak markets already for 18 years.
About Plexscape
Plexscape is a software startup company developing innovative solutions and services in the fields of civil and environmental engineering, relying on the "Software as a Service" model of software deployment. Plexscape is participating in the Microsoft BizSpark program.