DataView LT
View and modify linked database information in AutoCAD LT - "MAP LT"
---

DataVIEW LTis AutoCAD LT add-on application extending AutoCAD LT functionality with database capabilities. If you want to create, view, modify and search database information linked to your DWG file - DataView LT can offer these function even for your LT users. Link information stored in the DWG files is compatible with AutoCAD R14 and MAP. New "Pro" version can even create new links in AutoCAD LT.
---
System requirements
---
DataView LT requires AutoCAD LT98 or LT97 running on Windows NT4 or Windows 95/98. Database links should be defined in AutoCAD (R13/R14/2000) or AutoCAD MAP ("Pro" version can create new links). DataView supports virtually all database formats - with direct access to MS Access, Dbase, FoxPro, Paradox, Excel and text files; other database formats via ODBC.
Usage
---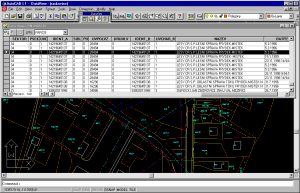 You can access your data in both directions - from the drawing to the database or from the database to the drawing. You can view and edit the database preserving the data integrity. If you select a record in the database view the associated entity(ies) is grip-selected in AutoCAD and AutoCAD auto-zooms to this entity (like AutoCAD MAP3 or 2000). You can choose any LPN from the drawing. DataView dialogues are modeless so you can work in LT while databases are displayed. DataView supports IntelliMouse panning.
DataView LT is easy to configure and easy to use.
Version history
---
1.11 (11/99)

version "Pro" can create new LPNs
1.1 (9/99)

version "Pro" with creating news links in AutoCAD LT
1.0.3 (4/99)

new functions: print, fit column width, sort, view selected, grip-select multiple rows
new command and menu option: Options
1.0 (4/99)

original release
limited functionality for LT97
DataView LT Demo
---
This functional demo version is free and can be copied for free - together with this README file. If you would like to obtain the full unlimited commercial version, please use the BUY icon or contact CAD Studio.
Price of the commercial version of DataView LT is 299,-EUR -

, the Pro version costs 380,-EUR (check or bank transfer) -

.