AutoNEST for AutoCAD
Optimize layout of 2D parts on rectangular sheets


Cesky
---
The application is no longer maintained. We recommend Inventor Nesting, Fusion 360, or the online nesting tools.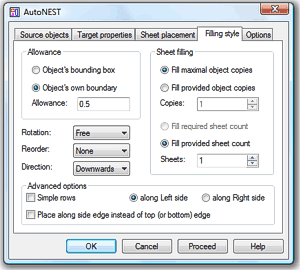 AutoNEST is general purpose nesting application for AutoCAD (as an ARX add-on module) by CAD Studio (former AAC Solutions/Xanadu). AutoNEST addresses the problem of nesting irregular shapes that maximize the use of raw material (cutting layouts). It can be used for sheetmetal, wooden, paper, plastic or leather parts (or just eg. for schematics - factories, stores, ...). Individual parts are defined in AutoCAD - either as closed polylines or as block references. Many options can customize the optimalization process (allowance, direction, rotation, copies...).
AutoNEST is available in English and in Czech.
AutoNEST is built on the nesting technology by the SOPHICS company.
Usage
---
Read in your 2D parts into AutoCAD (from DWG/DXF files, or draw them
Select polylines and/or blocks representing your 2D parts (source objects) - they can be picked from arbitrary locations in your drawing (demo version adds its own "DEMO" parts).
Pick two opposite corners representing the rectangular sheet (target) where your parts should be nested.
Choose the number of parts to be nested (or just "fill"), allowance, true-shape/bounding-box, free-rotation/fixed, and nesting other parameters.
Pick the "Apply" button and your parts will be placed (copied or moved) in "optimized" positions on the specified sheet(s).
System requirements
---
AutoNEST requires AutoCAD 2008/2007 or 2004/2005/2006 or 2000/2000i/2002 or R14 or LT98 running on Windows NT4/2000/XP.
AutoNEST is officially not supported in Windows Vista.
Version history
---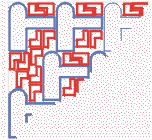 1.7 (8.10.2007)
support for AutoCAD 2008/2007
1.6 (1.7.2005)
support for AutoCAD 2006
more filling options

1.4 (1.12.2004)
support for AutoCAD 2005 and 2004
new setup program
1.1 (28.1.2000)
allows to work with block copies (not only with outlines)
better processing of blocks with multiple outlines
detailed statistics of nesting process, sheet usage
on-line help to individual tabs in AutoNEST dialog
saves a list of last used files
better identification of the Demo part
1.01 (4.11.99)
better nesting alogorithm

1.0 (1.10.99)
first release
supports also AutoCAD 2000, AutoCAD LT98
automatic installer
limited functional demo for download, includes Help
---
AutoNEST Demo
limited functional demo version is free and can be copied for free (together with this readme). If you would like to obtain the full unlimited commercial version, please
contact CAD Studio
. Price of the commercial version of AutoNEST is 1990,-EUR or 39.500,-CZK (via credit card, check or bank transfer) -

.

Download limited free version of AutoNEST