CAD Studio Sheet Metal Parts
Parametric sheetmetal parts and transitions for Autodesk Inventor


Česky
---
SMP - Sheet Metal Parts
---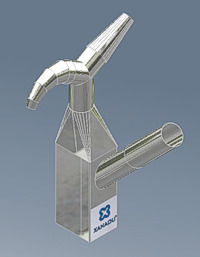 CAD Studio Sheet Metal Parts is an intelligent parametric library (generator) of special sheet metal parts, which is fully integrated in Autodesk Inventor. It allows to quickly create ducting segments and unfold parts for manufacturing.
The core of the application is a database of complex shapes. These parametric sheetmetal parts are compatible with the sheetmetal module in Autodesk Inventor. The SMP application use the principles of handling sheetmetal styles and allows to manage them easily. Unfolding of parts is handled through the internal Inventor unfolder technology.
The database of the SMP application contains a number of sheetmetal parts and assemblies - such as:
Parts:

Circular pipe
Arc segment
Transition - Circle-Circle (with an eccentricity)
Transition - Square-Circle (with an eccentricity)
Filing funnel

Assemblies:

Cylindrical pipe with cylindrical branch pipe
Conic pipe with cylindrical branch pipe
Square pipe with square branch pipe
Square pipe with cylindrical branch pipe
Cylindrical pipe with square branch pipe
Cylindrical Y-pipe
Segmented elbow
Compensator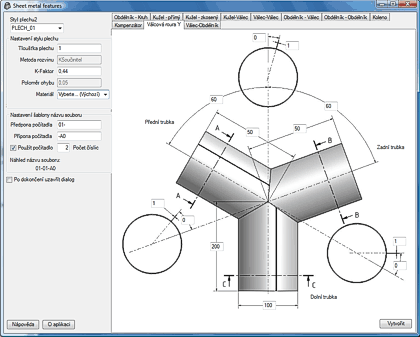 SMP user interface - parameters dialog
See a sample video: Sheet Metal Parts

Installation
---
You can install the SMP application using an automatic installation program. This integrates the add-on to the Inventor environment.
You can find the SMP start icon in the lower part of the Assembly Panel in the Assembly environment (see pic.).
Usage
---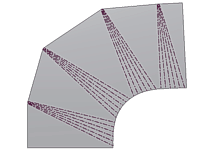 You can invoke the SMP dialog from the tool panel in the Assembly (Sheetmetal) environment. After you choose the type of the sheetmetal part and set the size parameters, you can use the Create button to generate the requested 3D model (part or assembly). The application prompts for saving and naming of the created elements.
The subsequent unfolding is generated using the standard Inventor technology - you can create both the 2D drawing documentation and export data for CNC technologies (to the formats DXF, SAT, DWG) without the need of any other tools.
Supported platforms
---
The program SMP is tested under Windows XP and Windows Vista. SMP supports the applications Inventor 2010, 2009 and 2008, plus Inventor Professional 2010, 2009 and 2008 (32-bit and 64-bit versions).
---
What's new?
---
| Version | Description |
| --- | --- |
| 1.3 (7.11.2008) | Added installation program for Inventor 2009 |
| 1.1 (7.8.2008) | Supports Inventor 2009 |
| 1.0 (22.1.2008) | First version |
SMP License
---
SheetMetal Parts is a comemrcial application by CAD Studio. A limited Trial version SMP is available.

Download trial version of SMP