Architectural Desktop - Napkin
Hand-drawn look for your Architectural Desktop drawings (by Autodesk)
---
ADT Napkin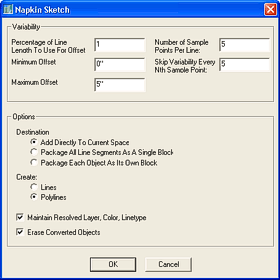 Napkin is an OMF-based ARX application for Architectural Desktop R2, and now R3 and R3.3 which scatters an ADT drawing giving it a hand-drawn look.
Installation
Copy all files from distribution archive to Architectural Desktop directory and load the AdcgNapkinSketch.arx file (e.g. by drag-and-drop or by using ADT Startup Suite).
Usage
Run the Napkin command on ADT command line. Specify required parameters for deformation. The resulting drawing will look like this:

-->

Problems
Please send possible questions and problems to: info@cadstudio.cz.
Please send inquiries about custom application development to: develop@cadstudio.cz.

Download free Napkin application (for ADT2 or ADT3 and ADT3.3)