CS Furniture for Fusion 360
Woodworking and cabinetmaking add-in for Autodesk Fusion 360


Cesky
---
Woodworking add-on app Furniture for Fusion 360
The application CAD Studio Furniture for Fusion 360 (Furniture) is a woodworking and cabinetmaking add-in for the CAD/CAM software Autodesk Fusion 360 (for Windows). It enables to streamline and automate parametric design, documentation creation and visualization of cabinets and other types of wooden furniture. Fusion 360 adds a series of features to streamline the creation, modification and documentation of furniture elements. The application UI is available in English and Czech.

Furniture for Fusion (FFF, F4F) is a furniture design software designed for the woodworking industry, fully integrated into Autodesk Fusion 360. Autodesk Fusion 360 is a powerful design tool that does not itself provide any industry-specific tools, such as for the furniture industry. This led us to develop the Furniture product with the help of furniture industry experts, to streamline and optimize their design work. Furniture stands out for its simplicity, low hardware requirements and above all affordability.
Furniture is built on a packaging modeling approach that is ideal for fast prototyping of wooden panels. For an efficient design creation, Furniture is equipped with tools for inserting and replacing components, managing dimensional and material configurations, a structured BOM with different views as needed (for pricing, manufacturing and ordering material).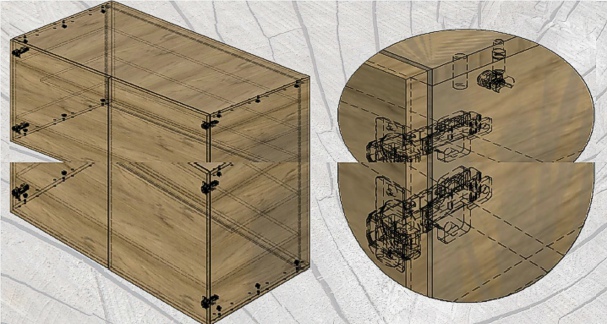 Furniture functionality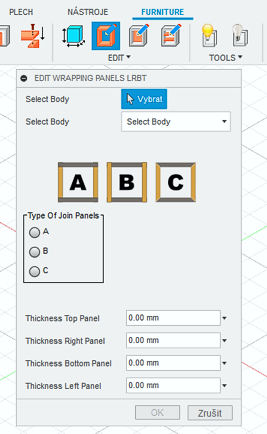 Existing functions:
Easy-to-use design features for furniture makers
Design automation, parameterization
Library of furniture components
Material library
Functions for drawing documentation
Visualization
Ordering of components and cutting from key suppliers
Planned future functions:
Linking with ERP
CAM automation and direct connection to CNC
Nesting (optimization of nesting and rotation according to fiber direction)
Production planning and data acquisition from machines
Samples from Furniture
Example of typical workflows in the CAD application Furniture for Fusion 360 - model, visualization, exploded view, drawing documentation: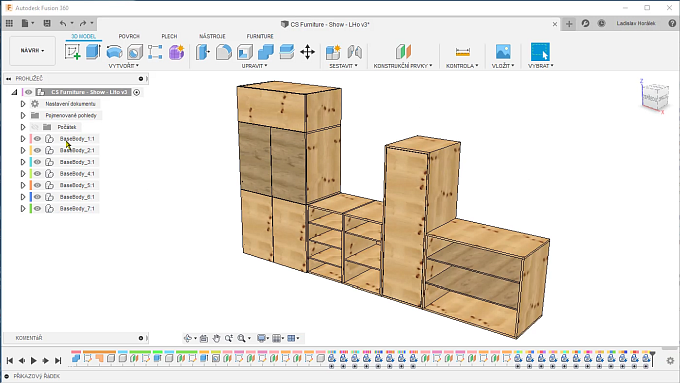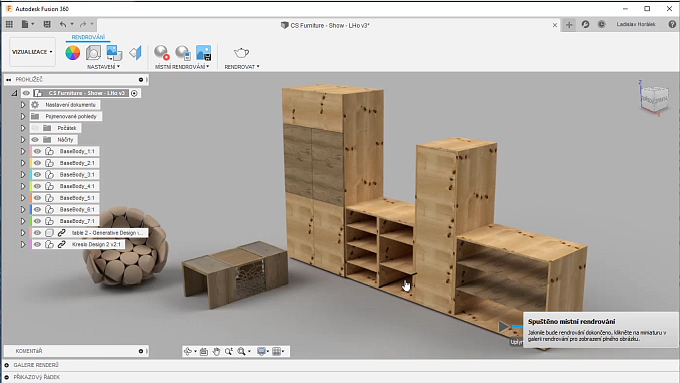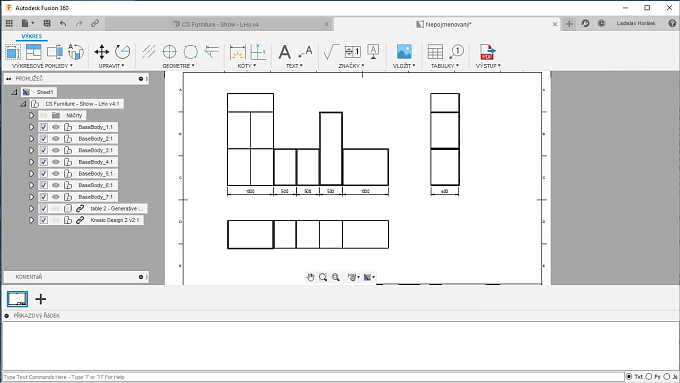 System requirements
Microsoft Windows 10 or 8.1 64bit (or higher), .Net Framework version 4.0 or higher
CPU: 64-bit processor (32-bit not supported)
RAM: 3GB RAM (recommended 4GB)
Internet connection
Cca 300MB of free disk space
Graphics card: all with support of DirectX 11 and min. 1GB VRAM, integrated cards only with min. 6GB RAM; min.resolution: 1366x768
Pointing device: Microsoft Mouse, Magic Mouse, MacBook Pro trackpad, supported also 3D mouse
Any web browser for project dashboard (incl. tablets and mobile phones)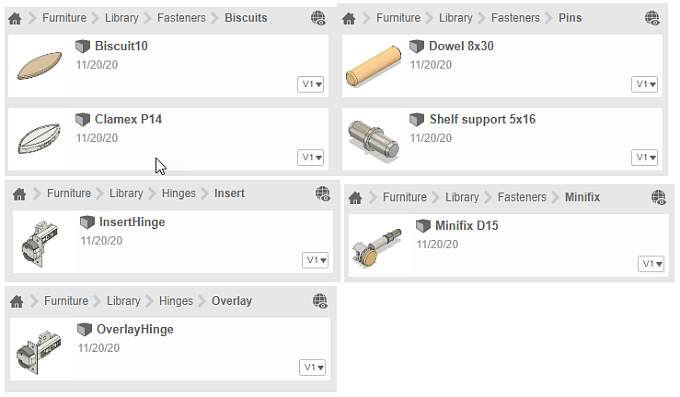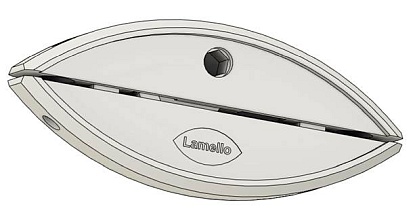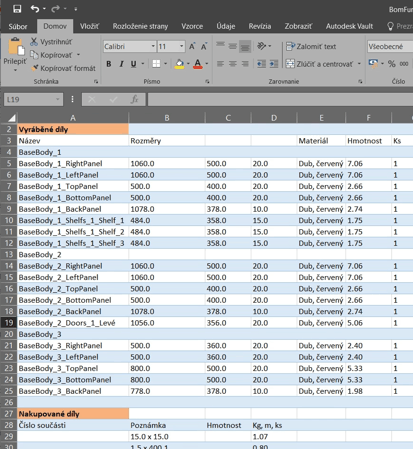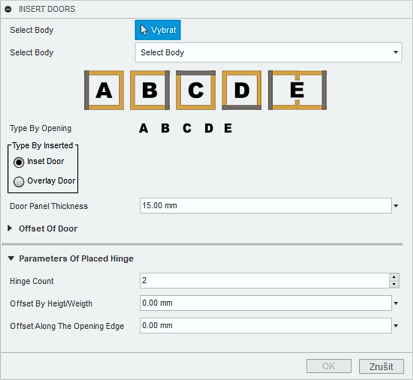 Licensing
Furniture for Fusion 360 is a commercial application licensed as a yearly subscription for the individual computers (using activation codes). It requires an installation of Autodesk Fusion 360 (Win) in any of its license models.
Versions
V1.4 (11/2020)

Editing of cabinets no longer depends of the document units setting (a fix)
Shelf supports placed correctly even if the cabinet has its back panel (a fix)
Changed the way of loading the fixture library, the first access takes longer but any subsequent use is then much faster.
Added a new part to the fixture library - Clamex P14

V1.3 (10/2020)

"Wrapping panels" - offsets can be set for each panel separately; double-width panels - displayed as single panel, in BOM as two panels
"Insert shelves" - now with the option to insert also shelf supports
"BOM" - optionally reduce max size by added edges
New command "Add edges" - used only in BOM, not in the model
New command "Create holes" - removes material in manufactured panels, to place purchased parts

V1.2 (6/2020)

Small fixes in the installer and licensing messages

V1.1 (5/2020)

Added 30-day Trial version, can be launched directly from the License dialog
Added Czech UI - the Furniture UI language is switched automatically by the Fusion 360 language - CZ is selected if Fusion 360 in Czech, otherwise English
Added explanatory tooltips
Faster loading, license checking
The project FURNITURE is created only after a part from library is needed, or can be force-invoked from the Settings dialog - see Help
Before installation of version 1.1 you need to uninstall the previous version
Models created in version 1.0 may not be compatibile, we recommend remodelling them
Fixed the "Wrapping panels" function bug after Fusion 360 update to version 2.0.8335 or higher
Fixed bug - in some specific cases, inserted joints/hinges were improperly rotated

V1.0 (1/2020)

Initial version for Windows and Autodesk Apps
Download

You can download the latest version of Furniture and try it in the Trial mode from Download.
Buy/Order
Price of the commercial version of Furniture -

- just 104 € (excl.VAT)
---