BoreImage - raster image to perforated sheet
Convert raster images to perforated sheet metal in Inventor
---
BoreImage - drill holes by pixel shade
BoreImage is and add-on utility for Autodesk Inventor (tested in release 2015/2016) which converts all pixels of a raster image (BMP picture) to a matrix of holes drilled (bored, punched) in a sheet metal (lochblech). The diameter of any hole is controlled by the respective pixel shade (the darker, the larger). You can use it to create art decorations, drill your company logo to a product casing, or just play around.
You can use any contrast raster image in the BMP file format (use e.g. IrfanView to convert your picture to BMP). Grayscale images are preferred. Use the smallest possible resolution (up to 100x100 pixels)- each pixel will make one hole in the sheet metal - to keep your Inventor 3D model small.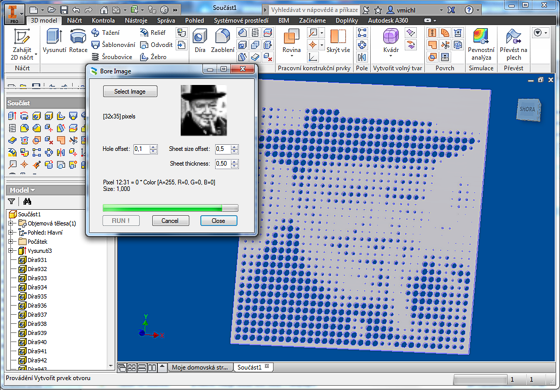 Usage
Run the EXE application with Inventor opened in the part environment (in a new, empty part). Select the image file and set its parameters (or leave defaults). The sheet of a proper size will be created automatically. Creating the complete hole pattern will take some time - depending on the image resolution in pixels. You can make the hole creation process faster by pressing the Shift key - live model updates will be suppressed (postponed).
The "Hole offset" parameter creates more distant holes - making the resulting image less bold. The "Sheet size offset" parameter creates larger "border" around the holes.
If you need to make an inverse picture (the lighter pixel, the larger holes) - for a light material appearing in the resulting holes - invert your picture file before using it in BoreImage (e.g. with IrfanView).
Sample:
Try e.g. the WCH sample image and the resulting IPT file with perforated sheetmetal (as in the picture above).
History
1.0 - first release (2015 Christmas tools)
Freeware License
BoreImage is a free utility by CAD Studio, do not publish it online on other than CADstudio's web servers. Contact CAD Studio for feature enhancements.

Download the BoreImage application (for Inventor)