Inspection List - automated report sheet with Inventor drawing inspection dimensions


Cesky
---
Inspection List for Inventor
The add-on application Inspection List (Inspection Sheet, Prüfprotokoll) for Autodesk Inventor allows to quickly create inspection lists from Inventor drawings - you can then use these lists to check key dimensions for manufacturing.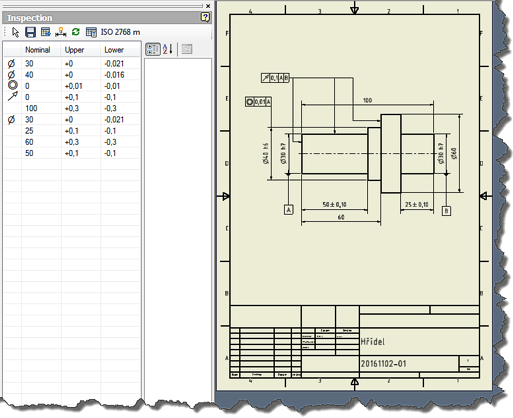 Using Inspection List
This add-in module runs within the Inventor drawing environment. It allows to select inspection (important) dimensions in the drawing and read their values incl. tolerances for further processing. Selected dimensions are lised in a clearly organized table in the Inventor environment. This report of inspection dimensions can be saved and exported in the MS Excel format.
This tool is supported in Inventor version 2016, 2017, 2018, 2019, 2020, 2021, 2022, 2023 and higher (64-bit).
Functions - user interface
You can control the application through the Inspection panel, which can be invoked from the ribbon Annotation > Inspection > Restore window: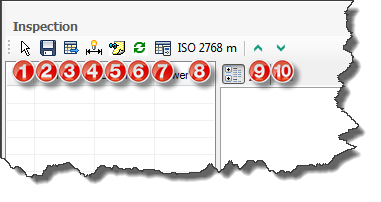 Starts selecting dimensions and geometric tolerances
Stores the current selection to the document (does not save the document)
Exports the current selection to a XLS file
Highlights the current selection on the current sheet
Adds marks to all dimensions and geometric tolerances selected in the list
Updates the selection from the stored records in the document
Sets the global tolerance standard for the current drawing
Displays information about the current standard for non-tolerance dimensions
Moves selected dimensions up in the list
Moves selected dimensions down in the list
Drawing environment - selecting dimensions
Base functionality allows to interactively select inspection dimensions in a drawing view and read their values incl. tolerances into a table of dimensions to check. A given dimension value can be then selected in the table and the related dimension object is highlighted in the drawing for a quick overview. You can also save the list of inspection dimensions.
Inspection list environment
The subsequent export to MS Excel allows to create the finalized inspection list (report) with the specification of the source part, its part number and with the list of inspection dimensions to be used for measuring checks on manufacturing. The finalized appearance of the inspection sheet is defined by a customizable template, which can be easily modified according to user's preferences. Standard tolerances by ISO 2768 and ISO 13920 are supported in the inspection list.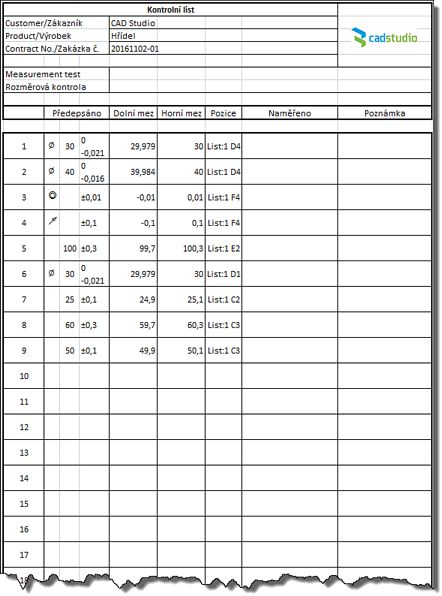 Video-sample:
Buy/Order
---
If you are interested in the commercial license of CS Inspection List, please use the BUY icon below or contact CAD Studio.
Price of the commercial version of Inspection List is 105,-EUR -

.