Acadstart Shell Extension
Running AutoCAD with specified profile
---
If you have problems with launching AutoCAD with multiple profiles and if you'd like to specify which profile to use (e.g. in Explorer's context menu for DWG), you can use our shell extension acadstart.dll.
Installation
---
Copy the .DLL file to any directory and register it using the regsvr32.exe tool:
regsvr32 acadstart.dll
If Explorer is currently running, restart it.
Usage
---
Select DWG or DXF AutoCAD drawing in Explorer. Click the right mouse button. You should see one or more new items in the context menu: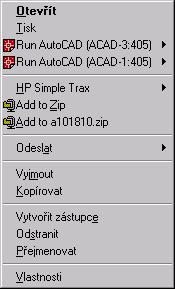 If you click on the arrow, menu is displayed with profiles defined for the selected AutoCAD installation: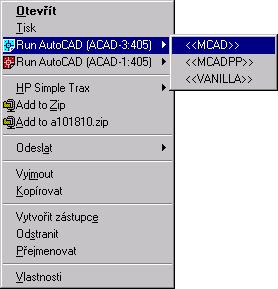 Select the profile and AutoCAD is run with the specified drawing and profile. Typical case is running a plain vanilla AutoCAD in a Mechanical Desktop installation.
Supported platforms
---
Program was tested on Windows NT4.0 and Windows 98 with Explorer and ActiveDesktop environment.
Program supports AutoCAD 2000 (R15).
Program supports AutoCAD R14.01.
Problems
When nothing happens after right-clicking a DWG file, please verify:
that you have AutoCAD 2000 (or R14.01) installed.
that you have configured at least one profile.
that the extension was properly registered. Registry should contain the following items: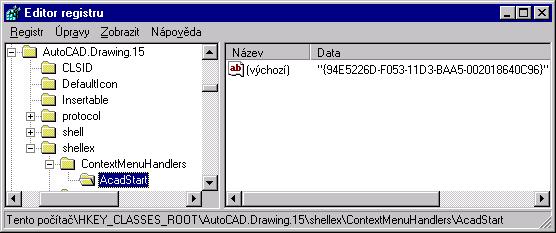 and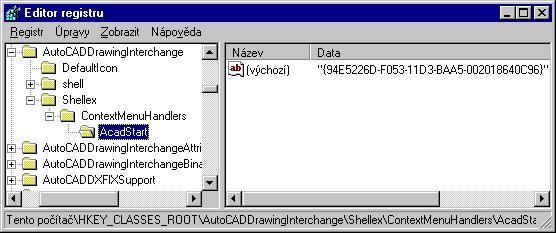 Please send possible questions and problems to: info@cadstudio.cz.
Please send inquiries about custom application development to: develop@cadstudio.cz.

Download free Acadstart application (for AutoCAD 2000, Map2000, MDT4, R14, Map3, MDT3)