Which product has saved a given DWG or DWGs in a given folder?
---
DWGintVer - internal information from DWG files

CADstudio DWGintVer is an AutoCAD add-on utility for AutoCAD 2024/2023/2022, 2021/2020/2019/2018, 2017/2016/2015/2014. This .NET tool displays internal information from DWG files about the product used to save that particular DWG drawing.
NETLOAD the DWGintVer.DLL file into your AutoCAD session and type DWGINTVER or just use the DWGinVer icon from the AutoCAD Add-Ins ribbon tab. The tool displays the requested information from the just opened file (the file must be present on disk). You can also use the DWGintVerCon.exe console tool to display version information of all DWG files in a given folder.
By default, a DWG file displays only the information about the user/author name and the originating group of AutoCAD versions sharing a common DWG file format (more info). With newer DWG file versions saved from AutoCAD (any vertical version, including LT, but not from Inventor or Revit), you can find out detailed information about the AutoCAD version and language (flavour, language localization, build number - resp. the service pack), which was used to save the drawing, even without previously storing auxiliar data to custom properties. For this, you can use the .NET application DWGintVer available on our Helpdesk server - see Download and on Autodesk Apps store.
This tool displays an information dialog with data about the authoring product - use it of course before you save the DWG in your own AutoCAD.
Examples: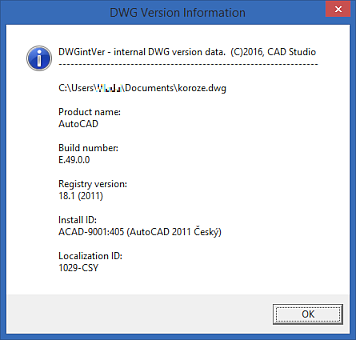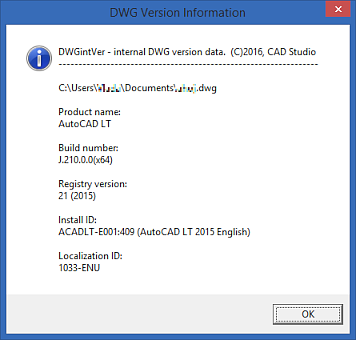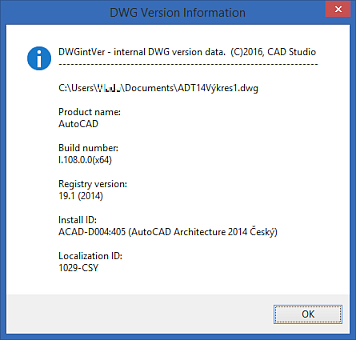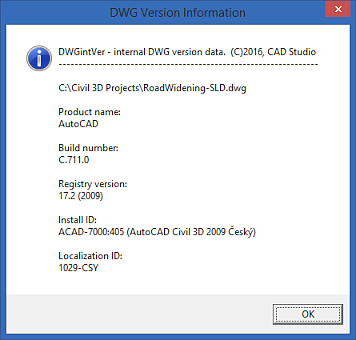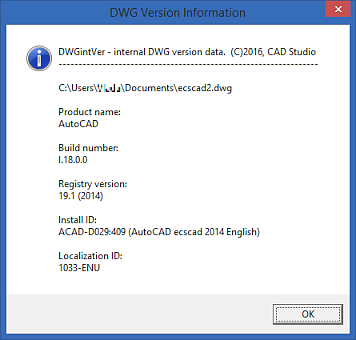 You can also recognize DWG files saved from AutoCAD LT: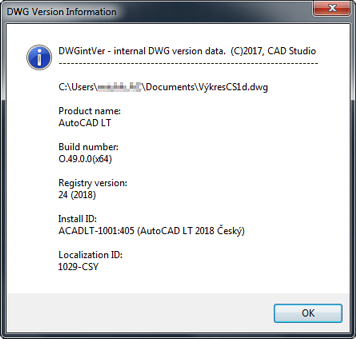 By switching the CMDDIA variable you can direct the command output to the command line.
You can also use the DWGintVerCon Windows console application (.EXE) to perform batch report with similar results:

---
Alternative method - PreSave
Similar data - AutoCAD version, flavour, language and build of the authoring product for the particular DWG - can be also obtained by setting a custom property. The custom property "LastACADver" can be automatically filled in by the PreSave utility/reactor - see the Tip 7169.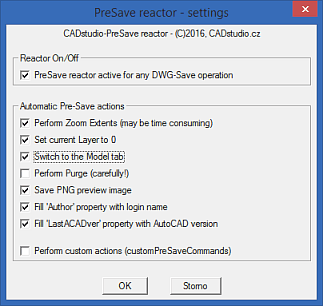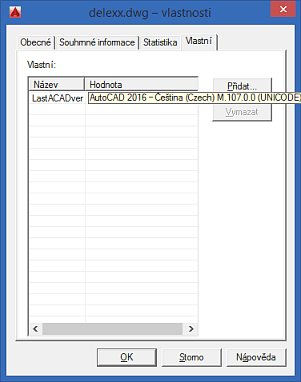 DWGintVer History
Version 1.2.1 (3/2022) - Support for AutoCAD 2023/2022/2021/2020/2019
Version 1.2 (3/2019) - Support for AutoCAD 2021/2020/2019
Version 1.1 (3/2017) - Support for AutoCAD 2018
Version 1.0 (1/2016) - First release
DWGintVer license (buy/order)
DWGintVer is a "CS+" utility by CAD Studio (Arkance Systems). It is free for our Autodesk customers or you can buy it on our CAD eShop or in Autodesk App Store

Download DWGintVer (for AutoCAD)


Buy DWGintVer